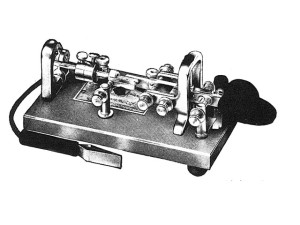 The last new model of the Vibroplex bug was introduced in 1948, and was called the "Super DeLuxe" or Presentation model. The Presentation was the same as a Deluxe Original, except for one cosmetic difference and one mechanical difference. The cosmetic difference was the addition of a gold-plated brass top plate, which made the Presentation distinctive and easy to identify.
The mechanical difference was significant. The Presentation had a new type of lever with an adjustable mainspring. The mainspring was fastened in a slot in the lever arm, and after loosening two small screws, the user could move the mainspring in or out, effectively shortening or lengthening the mainspring and changing its rate of vibration.
A few years ago, while Vibroplex was located in Maine, the adjustable mainspring was dropped, and today's Presentation is just an Original with a gold-plated brass top. Today Vibroplex makes a Gold Original, with the entire base gold-plated.